El Profesor Ricardo Ruiz-López, MD, Neurocirujano, FIPP, es Presidente y Director de Clínica Vértebra, Barcelona / Madrid, Spain & Pain Surgery Centers, fundada en 2014 por la Clínica del Dolor de Barcelona (1987).
Ricardo Ruiz-López es Fundador y Ex Presidente del World Institute of Pain-WIP-(USA, 1993). También es Fundador de la European Federation of IASP ( International Association for the Study of Pain ) – EFIC – ( 1993 ) y Presidente de su II Congreso en Barcelona «Pain in Europe» en 1997.
Ha sido Fundador de la Sociedad Española del Dolor ( 1989 ) y Presidente Fundador de la Sociedad Catalana del Dolor ( 2001 ) así como de la International Spine Society World Federation of Minimally Invasive Spine Surgery ( WFMISS ). Ha sido Presidente del 4o Congreso Mundial de WIP, Barcelona, 2004, y de Talleres, Simposios, etc. en las últimas décadas.
Su trabajo académico incluye varios libros sobre la Especialidad de Columna Intervencionista, numerosos capítulos de libros y publicaciones en revistas de la Especialidad de Cirugía de Columna, Cirugía de Columna Mínimamente Invasiva ( MISS ) y Medicina Regenerativa.
Participa en varios Consejos Editoriales de revistas de las especialidades de MISS, Dolor Intervencionista y Medicina Regenerativa y actualmente imparte conferencias educativas en Universidades y Encuentros Internacionales de todo el mundo.
Presentación del Dr. Ruiz-López. 22nd Annual Gabor Racz Advanced Interventional Pain Conference. World Institute of Pain.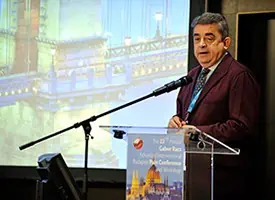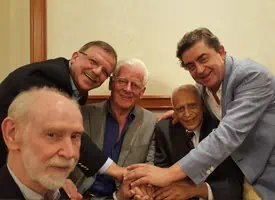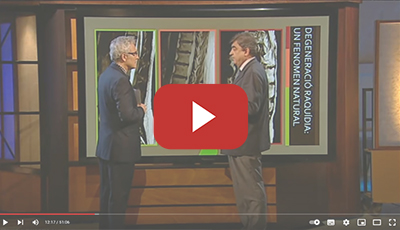 Entrevista a Dr. Ruiz-López en programa «Singulars» de TV3. Presentador Jaume Barberà.
Opiniones de los Pacientes
Me realizaron esta mañana una Denervación facetaria lumbar (Rizolisis) y tengo que decir que «O» dolor. Han pasado 10h desde la intervención y sigo sin nada de dolor y sin medicación. Enhorabuena a todo el equipo. Viggo Adeler (Medico)
En una situación francamente desesperada con mi madre afectada de neuralgia del trigémino y con dolores continuos y terribles durante el confinamiento y ningún médico de la sanidad pública capaz de calmarle en modo alguno el dolor, ha resultado milagroso encontrar este centro navegando por internet. En apenas un par de semanas tras la visita inicial, el Dr. Ruiz intervino a mi madre en una cirugía ambulatoria y poco agresiva y en apenas unos días volvió a recuperar dicción, movilidad y empezó al fin a dormir al no sufrir esos tremendos dolores. Y si el tratamiento ha sido efectivo gracias a las manos de un gran doctor, no por eso hay que quitar mérito al todo el equipo del centro. Desde la recepción a las enfermeras son todos profesionales ejemplares que te hacen sentir seguro y en buenas manos en todo momento. Mi madre ya es otra y apenas 4 meses después somos conscientes de que no hay mejor inversión que la salud y en Clínica Vértebra es todo un acierto. Totalmente recomendables. UN MILLON DE GRACIAS.
Hace mucho que no sentía lo que era vivir sin dolor. Solo tengo palabras de agradecimiento para todo el equipo, desde el personal en recepción hasta el equipo en quirófano. Gracias Dr. Squarcia por tan detallada explicación de mi problema y por lo acertado del tratamiento. Pido a Dios que este bienestar dure bastante.
Buen trato y atención, fui con una ciática de caballo y me dejaron como nuevo ,solo tengo palabras de agradecimiento.
Primera visita con el DR. Mattia Squarcia por fin un medico que me escucha y se mira todas mis pruebas medicas ya vengo de una mala experiencia de otra clínica del dolor que el médico no me escuchaba y ni se miró ni una prueba medica.
Solo tengo palabras de agradecimiento a los Doctores Ricardo Ruiz y Dr. Matias, en dos ocasiones he acudido a ellos, y solo tengo palabras de agradecimiento, me han solucionado mi problema, primero de Vertebras Lumbares y la segunda de un Hombro, y en los dos casos éxito total, no he vuelto a tener ningún tipo de molestia, estoy totalmente agradecido a ellos, me han cambiado la vida. MUCHAS GRACIAS DOCTORES, son ustedes fantásticos
Después de llevar meses con un dolor intenso en la espalda y en una pierna por una hernia y estar atiborrado de medicamentos y de sesiones de rehabilitación finalmente un amigo me recomendó esta Clínica y acerté plenamente. Me visitaron muy rápido y el Dr Ruiz me practicó una intervención por radiofrecuencia que me ha resuelto el problema, ya no me duele y he recuperado mi calidad de vida, que había perdido. Solo tengo palabras de agradecimiento
Me realice una rizolisis hace dos años y es lo mejor decisión q tomé nunca. Me aconsejaron esta clínica. Personal y trato excelente. Volvería sin dudarlo. Soy otra persona desde que no siento nada de dolor.
Es un sitio que ha mejorado mi calidad de vida.
Sólo tengo palabras de agradecimiento, gracias Doctor Ricardo Ruiz.